More About Janet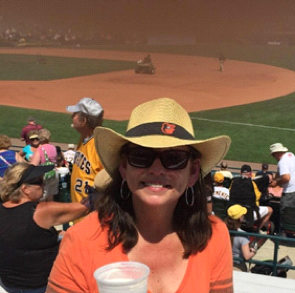 As a native Long Island, New Yorker, calmed by the seas of Annapolis, MD, the home of the United States Naval Academy, and ultimately transplanted in Sarasota for over 8 years, Janet has honed her craft leveraging her past experiences. As a college alumnus of the Maryland Institute for Art with a degree in Education. Upon graduation, Janet trained as an Interior Designer and ultimately started her own interior design firm. Leveraging over 30 years of business and interior design, she developed a keen eye for true real estate value.
In 2014, as a true fan of the game of baseball, and the Baltimore Orioles in particular, she visited Sarasota for the first time for a Spring Training vacation. While traveling from Ft Myers to Tampa, mid-way, she began thinking "I could live here. Never in a million years did I think I would live in Florida, but here I am, and life is great. The beaches, art, culture, dining, shopping and more make this an amazing place to live." We would be remiss if we didn't note that Janet has since embraced the Tampa Bay Rays in addition to the Orioles, and the NHL's 2020, 2021 Stanley Cup Champions, the Tampa Bay Lightning.
Janet and her Team are seasoned real estate professionals that possess the formal education and real-world experience necessary to foster trustworthy, symbiotic relationships demanded to ethically buy or sell your home or investment. They are frequently requested by clients to represent joint buy and sell transactions, requiring only the highest ethical and moral bars, often not demonstrated by other agents. As an Accredited Buyers Representative (ABR), Janet and her Team work directly with buyer-clients at every stage of the home-buying process. By providing informed, top-quality support services for buyers during the search and selection process, educated recommendations, and subsequent negotiations to obtain a realistic, yet best deal possible. Janet and her team have closed over 97.3% of all buyer deals post the "home inspection" crossroads. As a Certified Luxury Home Marketing Specialist (CLHMS), The Coughlin Group agent's leverage the proper tools and techniques which enables the creation of customized domestic and international mailing lists of targeted and qualified affluent prospects, while ensuring professionally designed luxury print and marketing materials, thereby providing a profession indelible spark for prospective buyers. The CLHMS ensures our agents provide you the confidence that your real estate will sell at the highest price, yet in the most time-effective manner for the client's unqiue circumstances.
The Coughlin Group clients are luxury buyers of fine homes and high-end sellers, that is, entertainers, professional athletes, investors, and high-net- worth individuals whose real estate holdings dot the globe. However, not all buyer or seller transactions are for the affluent and elite, we also service smaller family homes, foreclosures and short sale needs. What's more fun than an investment property on the beaches of Siesta Key?
The Coughlin Group pushes the envelope, accomplishing what few others have in residential real estate history have accomplished. With million-dollar transactions on their docket every day, Janet and her Team are responsible for closing nearly 250 transactions valued at over 350 million dollars' worth of real estate. Today, The Coughlin Group is the amongst the most well-known real estate agent organization within Florida, and are continually named as a top real estate producer year after year in the Sarasota region.
Come join the fun with Janet and her team and let her find your dream luxury & fine home today!